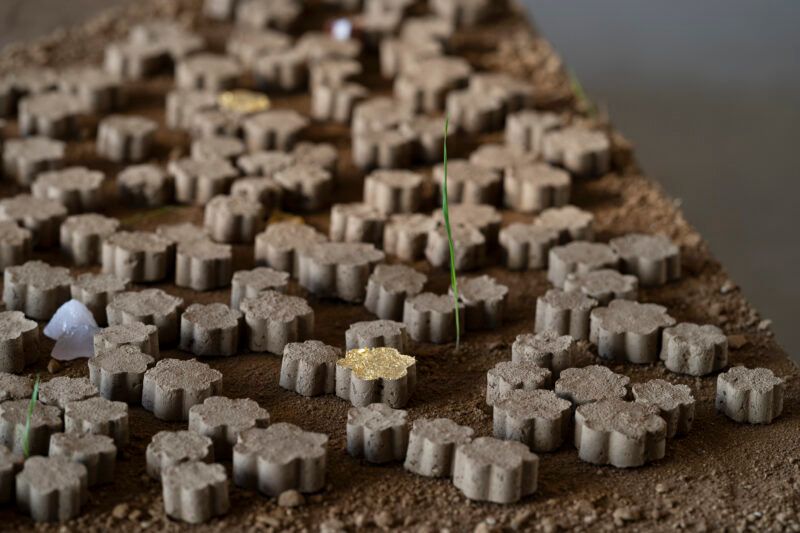 Event Public Program
Dineo Seshee Bopape
Born in the first light of the morning [moswara'marapo]
26 January 2023 – 6.30pm
What Memories are preserved in Stones, Water, and Earth?
With Lucrezia Cippitelli, Fedoua El Attari and Cheikh Fall, and Marie Moïse
What Memories are preserved in Stones, Water, and Earth? is a Public Program event organized on occasion of the finissage of the Born in the first light of the morning [moswara'marapo] exhibition by Dineo Seshee Bopape (open until 29 January 2023).
The evening is divided in three parts, with interventions by four guest speakers: the curator and scholar Lucrezia Cippitelli, the poet Fedoua El Attari accompanied by the musician Cheikh Fall, and the writer Marie Moïse.
The event—titled after a quote by the artist—explores several themes of the art of Dineo Seshee Bopape, such as the idea of individual and collective memory, as well as identity and history. Through three voices from different backgrounds, the event focuses on the transmission of memory through natural elements like water and earth, and the use of words and sounds as healing tools.
Program:
6.30 PM: A walk through the exhibition with Lucrezia Cippitelli. A guided tour in dialogue with the works on display.
7.30 PM: Reading by Fedoua El Attari with musical accompaniment by Cheikh Fall. The author reads La crepa dell'acqua (Water Crack), an unpublished poetic text of hers, accompanied by a kora, a traditional African instrument.
8.15 PM: Reading by Marie Moïse. Reading of We cried a river of laughter, a story from the anthology Future. Tomorrow narrated by today's voices of today. (Effequ, 2019).
Free admission upon reservation.
Accreditation starts at 5.30 PM
Lucrezia Cippitelli (PhD), scholar and curator, co-director of Arthub.
She was recently artistic director of Ateliers Picha (Democratic Republic of Congo, 2019-2022), which is the long-term, site-specific educational program of Picha (the artists-led organization which runs Lubumbashi Biennale) and curator of the 7th Lubumbashi Biennale. She curated Interactiva Biennale (Merida, Mexico, 2005 and 2007) and the 2nd Bucaramanga Biennale (Colombia, 2015).
Her research and curatorial practice focus on radical education, DIY culture, site-specificity, and collectivism, with an emphasis on epistemologies from the Global South. She directed the set up of a Media Lab in Havana (Alamar Express Lab, with Omni Zonafranca, Cuba, and Inventati, Italy, 2005-2007); a Master in Visual Arts at Alle School of Arts and Design – Addis Ababa University (2011-2014); a lab for site-specific artistic production in Khartoum (Khartoum Art Lab, Sudan, 2010-2012). She is professor of Aesthetics at Brera Art Academy, Milan, and recently curated the exhibition Sammy Baloji. K(C)ongo, Fragments of Interlaced Dialogues. Subversive Classifications (Gallerie degli Uffizi, Florence 2022) and Georges Senga, Comment un petit chasseur païen devient prêtre catholique (Museo delle Civiltà, Rome, 2022). Lately, she co-authored the book Colonialità e Culture Visuali in Italia (Mimesis 2021).
Fedoua El Attari is a poet and cultural curator. She also runs teaching workshops and curates socio-cultural and literary meetings, writings and aloud readings. For this event, she has composed an original poem as part of her Poe Therapy project, in which the word is a cure for listening, based on the idea of poetry as an empathic means of knowledge, sharing, indictment, and freedom. For this occasion, Fedoua El Attari has written a poetic text, titled La crepa dell'acqua (Water Crack), stemming from her expirience of Dineo Seshee Bopape's exhibition.
Cheikh Fall, a musician and kora maestro from Dakar, Senegal, completed his studies under Maestro Amadou Fall, who played the kora with Babà Maal, and later, under maestro Soriba Kouyate, a kora virtuoso, who works with musicians such as Peter Gabriel, Youssou Nour, Salif Keita, and Paolo Fresu.
In November 2011, Fall worked on the intercultural Kora Beat musical project. The aim was to bring out the full potential of the kora, merging African rhythms and sounds with Western instruments, as the sax, drums, and electric bass, to create Afro-jazz, blues, Latin, and reggae atmospheres.
His first solo album was released in July 2015 with the Afrique Unite Kora Beat project, and in 2019 came his second album, Yakar.
Marie Moïse is a professor of gender and decolonial studies at Stanford University in Florence and co-hosts a feminist journalism workshop at Ca' Foscari University in Venice. Italian-Haitian, with a PhD in Political Philosophy, Moïse works on research, dissemination, and activism in feminist and anti-racist contexts. She works with various institutions on numerous cultural projects and runs workshops on writing, self-awareness, and the production of collective knowledge on the themes of care, violence, and coloniality. As a translator, she has recently worked on the Italian editions of Where We Stand: Class Matters by Bell Hooks (Routledge, 2000) and Pleasure Activism: The Politics of Feeling Good by Adrienne Maree Brown (AK Press, 2019). She is the co-author of Future. Tomorrow narrated by today's voices (Future. Tomorrow narrated by the voices of today. Effequ, 2019).