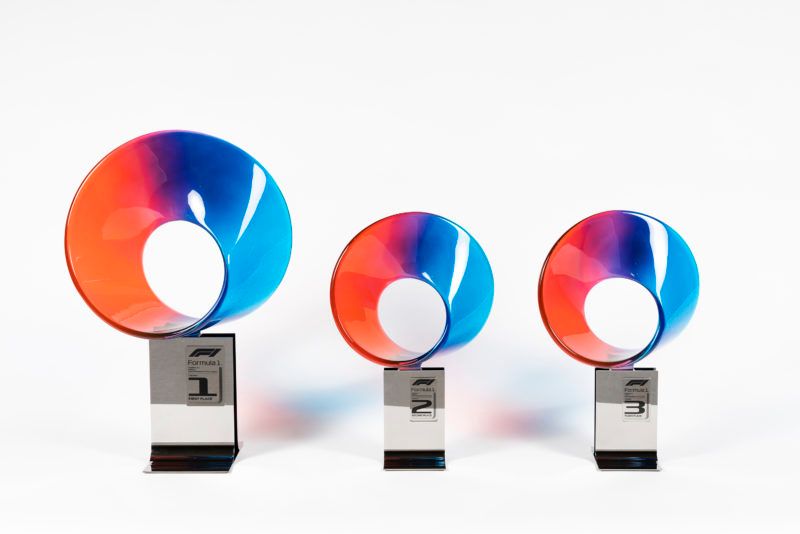 Event Special Projects
11 September 2022
Trophy for the the F1 Italian Grand Prix Monza 2022 by Patrick Tuttofuoco
Pirelli HangarBicocca has collaborated with Pirelli to create the trophy for the F1 Italian Grand Prix Monza 2022, by entrusting its concept and implementation to the artist Patrick Tuttofuoco.
Enjoy the making of the the interview with Patrick Tuttofuoco through our "Bubbles"!
Patrick Tuttofuoco created an abstract and fluid form that evokes the idea of cyclical time and is a reflection on the themes of dynamism and speed. The ribbon-like structure in transparent fluorescent colours was modelled through a complex technological process entailing the digital milling of a methacrylate block and craft coloring.
Eon is the title of the trophy. It refers to the long chronological unit which measures the age of the earth. This unit of measurement is then subdivided, conventionally, into eras, periods, epochs, and ages. It refers to time that goes beyond man's existence and tends towards the infinite.
Patrick Tuttofuoco was born in 1974 in Milan, where he still lives and works. With a 30-year artistic career, he is one of the best-known personalities on the Italian scene. He works in sculpture, video, neon and installation, and uses light and colour to create atmospheres and emotions, producing physical spaces and objects, with a Pop sensibility and an open and communicative approach, that  seem like they have emerged for a 3D video game or sci-fi film. Tuttofuoco's practice, always on the borderline between order and entropy, is never an icy representation of reality, but brings together scientific and mathematical elements with interpretations of human moods, demonstrating continuous openness to different fields of knowledge such architecture, design and urban planning. His works are found in important private collections and international museums and as permanent works of public art.